I'm a big fan of podcasts.
I like their intimacy – that I can hear real voices, real nuance, real emotion.
I like that I can shut my eyes. I like that I can lie down or go and walk.
I like what I can learn, what I can feel, what I can share.
There are quite a few art podcasts out there. And at one time or another, I've had most of them in my iTunes feed. But they haven't given me what I'm looking for. They are so often either business focused or trying to poke me in the ribs to get up and do the work. That's not what I need right now.
I'm looking for feminine creative community.
I'm a 40-something creative woman who often feels isolated. I live differently from the mainstream and I feel the lack of creative, female friends around me. I love to learn different things, I am curious, open, optimistic and loving. I want to be in life for the process, live eco-friendly and consciously. I want to be inspired and feel connected.
…and none of the podcasts I heard seemed to answer my need.
So instead of going on about it, I decided I needed to make this podcast!
The Feminine Creative was born.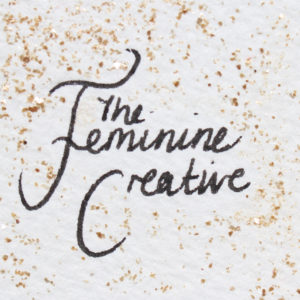 I'll be interviewing inspiring female creatives.
It'll be a place where they share about their life and their art.
It'll be gentle.
It'll be honest.
It'll be supportive.
I expect the first episodes of the podcast to be up by the end of June. And I'd be honoured if you'd join me. Sign up to my newsletter to get notified of when it goes live!