I've just finished my first 3D piece. And I love it.
It's made from beech leaves, a fallen twig that my son Gabriel brought home, beeswax from the local farmers' market here in Penzance and embroidery thread.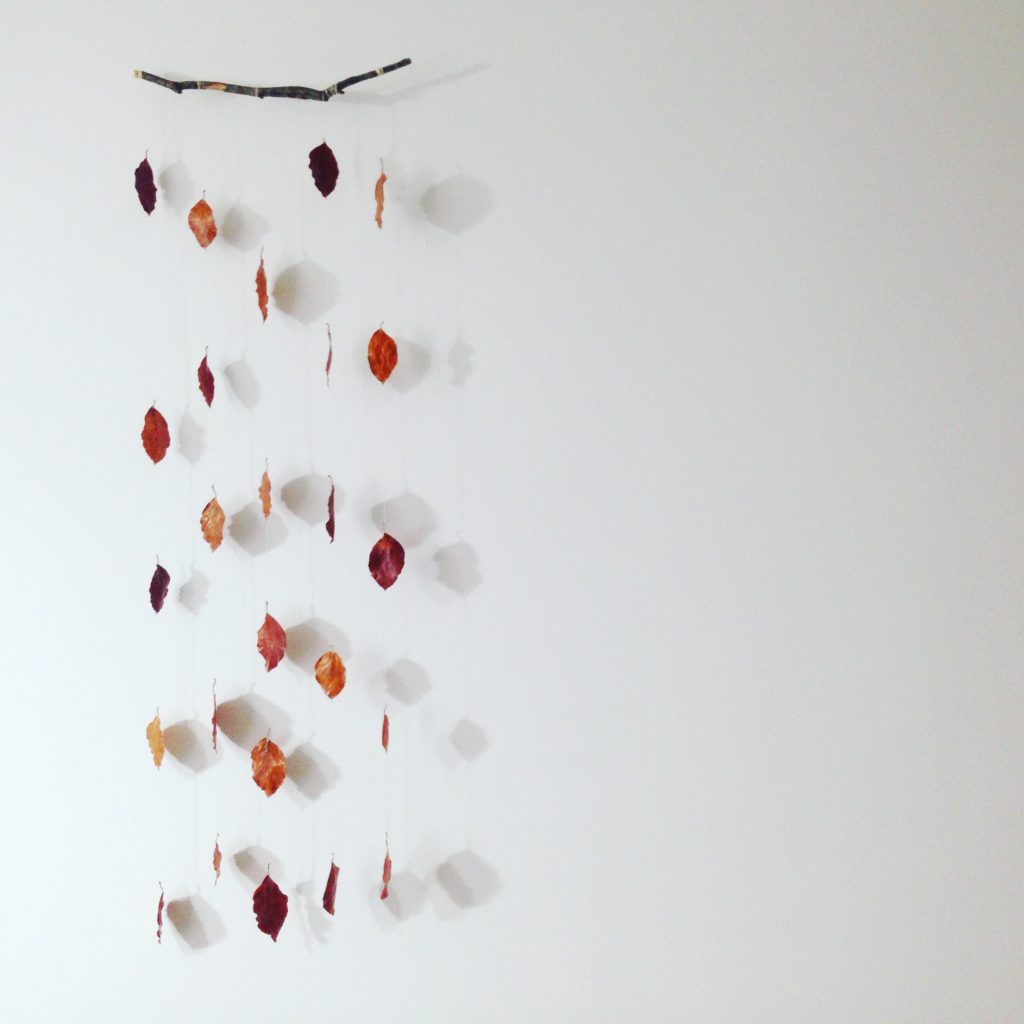 I'm always surprised when I create something I like – as if some sort of magic visited my studio.
Yet, I know, through this and many other pieces I've created over the last 2 years, that this type of magic available every day.
I've brought it to life by:
1 – Acknowledging and allowing myself to love what I love.
2 – Being curious about that which fascinates me and making it important.
3 – Carving out time in my day for creation.
These things have not been easy.
I've spent most of my 40 years pushing away what I get excited about – thinking it was silly or pointless. Do we all do that once we've 'grown up'? And carving time out – well, as Mother of a 2-year old in a household where we prepare all of our food from plain old meat and veg, that's a constant challenge.
But boy, it's rewarding. The hours making this piece in my corner-of-the-bedroom studio were entrancing. And now I sit here, staring at a piece that I love. It's at our window. I can't quite believe I made it.
Here's how this 'magic' came to life:
It started with our trip back to the South-East of England, whilst we were temporarily homeless, waiting for our house purchase to go through. It was autumn, and the local park was ablaze, leaves carpeting the ground: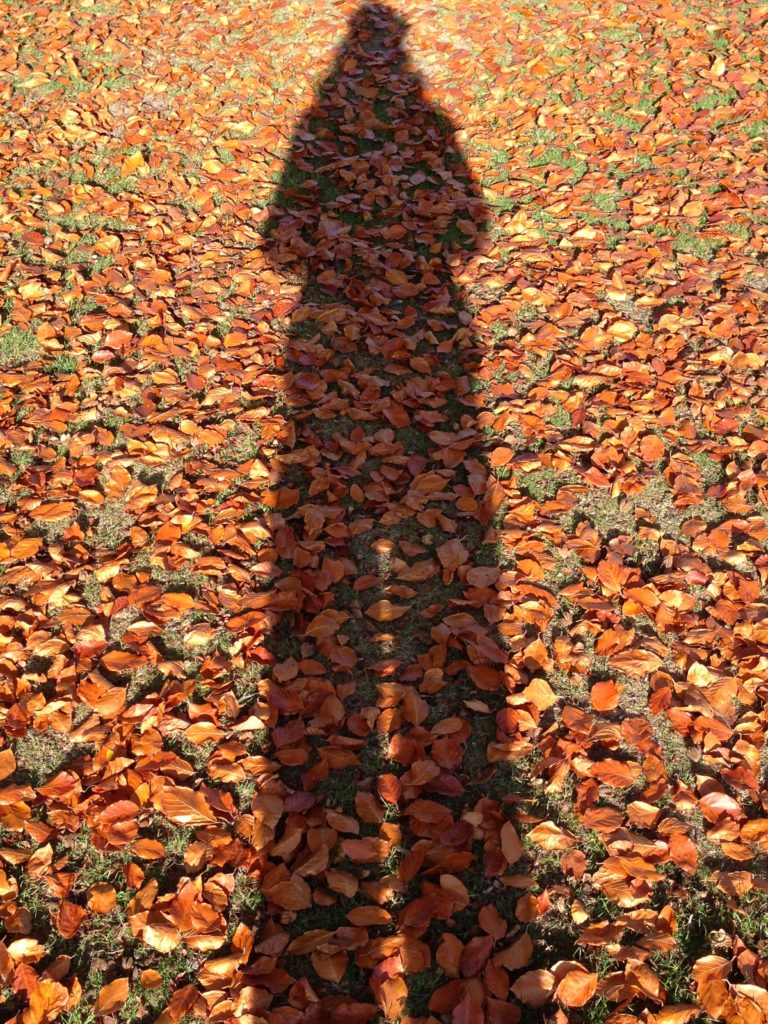 I'd always marvelled at leaves. But I'd never allowed myself more than a passing, "Oh yeah, you like leaves Alison, look for a while and then get on with the other, more important stuff in your life…"
But here, accepting more and more that I'm allowed to love what I love, I let myself be entranced. I scooped to pick some up and couldn't stop. It felt like I was in heaven. My husband, Rob, and my son, Gabriel, were halfway around the park before I caught up with them!
I wanted to keep the leaves with me. For them to be this beautiful forever. So I took them home and soaked them in glycerine for a few days (an experiment). Then I carefully transported them back, on the 7-hour train ride, to Cornwall and our new house. I have to admit, I felt a little silly. We had enough to transport as it was, and there was I carrying back a load of leaves!
They sat in a box for weeks (along with a lot of other things!), whilst we tried to settle in.
I kept thinking about them, and, as soon as I had the chance, I got them out again.
They were really special.
I knew I wanted to photograph them. I watched the weather forecast for a bright day, organised for my husband, Rob, to take our son out to the park and then got playing.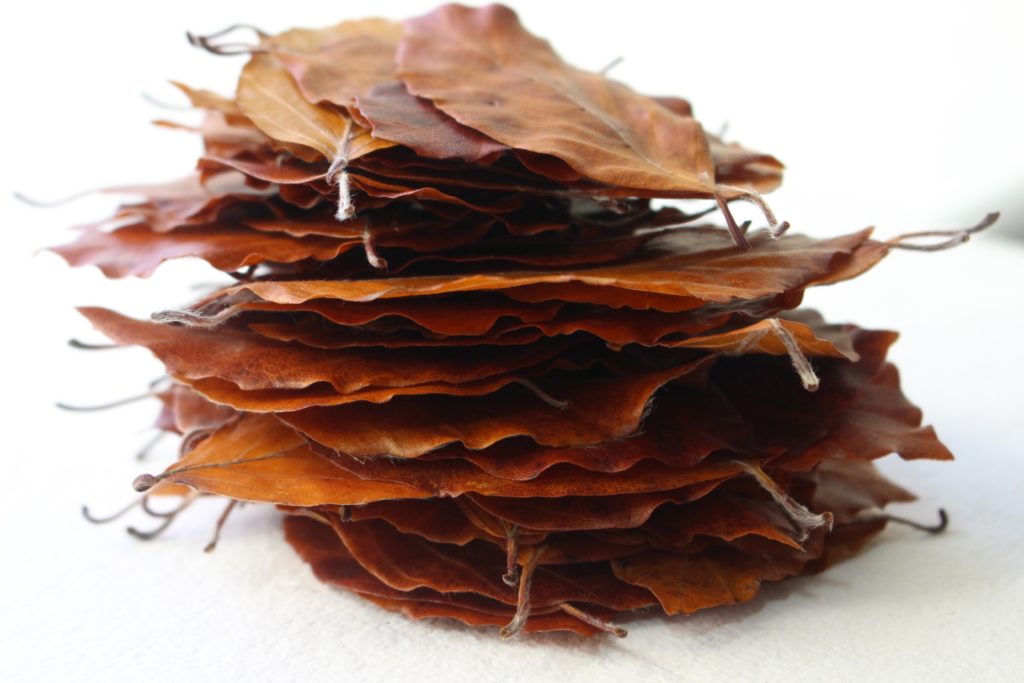 I took hundreds of photos, arranging the leaves, in awe of their beauty.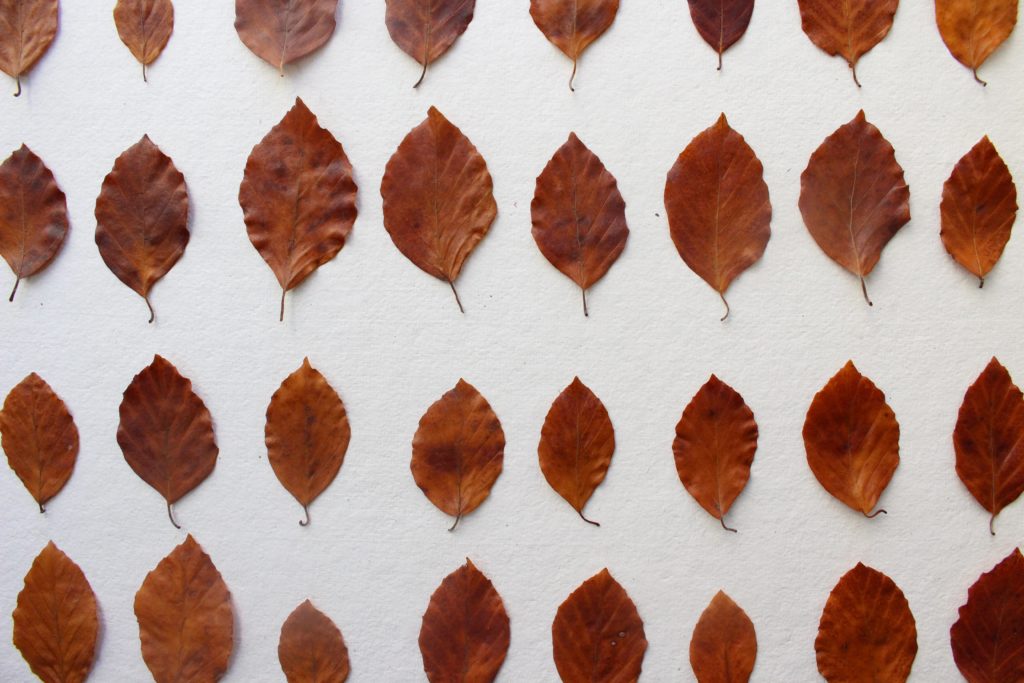 I had the idea that I'd perhaps have some cards made from the images.
And I kinda thought that was it.
But I still had the leaves.
And they were still so beautiful…
Every week, Rob, Gabriel and I go to Penzance County Market at buy our food for the whole week from the farmers and growers there. That week, as I was looking at the wares, I noticed some bars of beeswax. They were from a lady who also produced vegetables and honey. My curiosity was peaked; I'd read about different ways of preserving leaves, and the one that I hadn't tried yet was coating them in beeswax.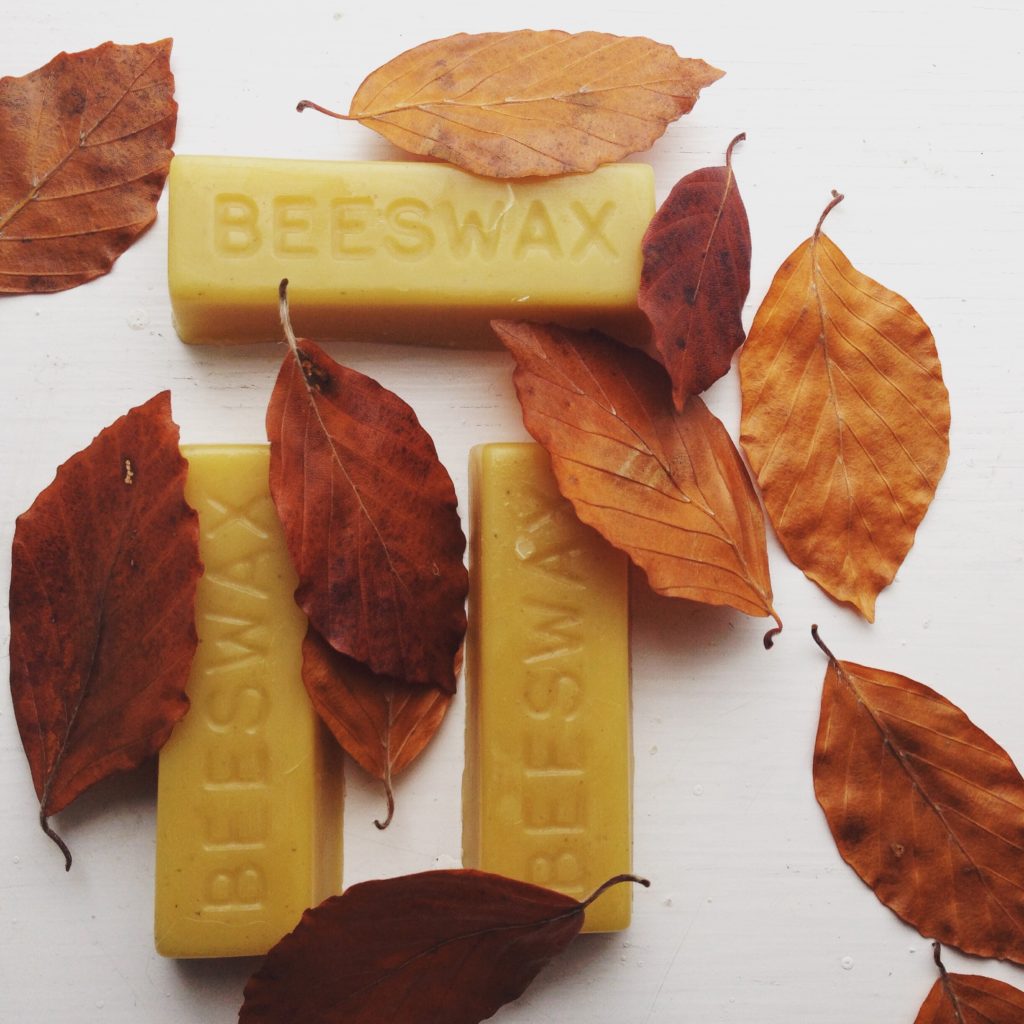 I bought some and the following week, was dipping my copper beech leaves in wax warmed on a camping stove.
They came out glistening and dried solid, forever emtombed in their beautiful, irregular shapes.
I love to watch leaves fall. And I wondered, could I do something to display these leaves as if they were falling? I started playing with leaves on the floor of my studio.
So, if I was to give it a go, how would I string them together? This took a while. I got hold of some copper wire, but it was too colourful. I wanted the leaves to stand out. I tried jute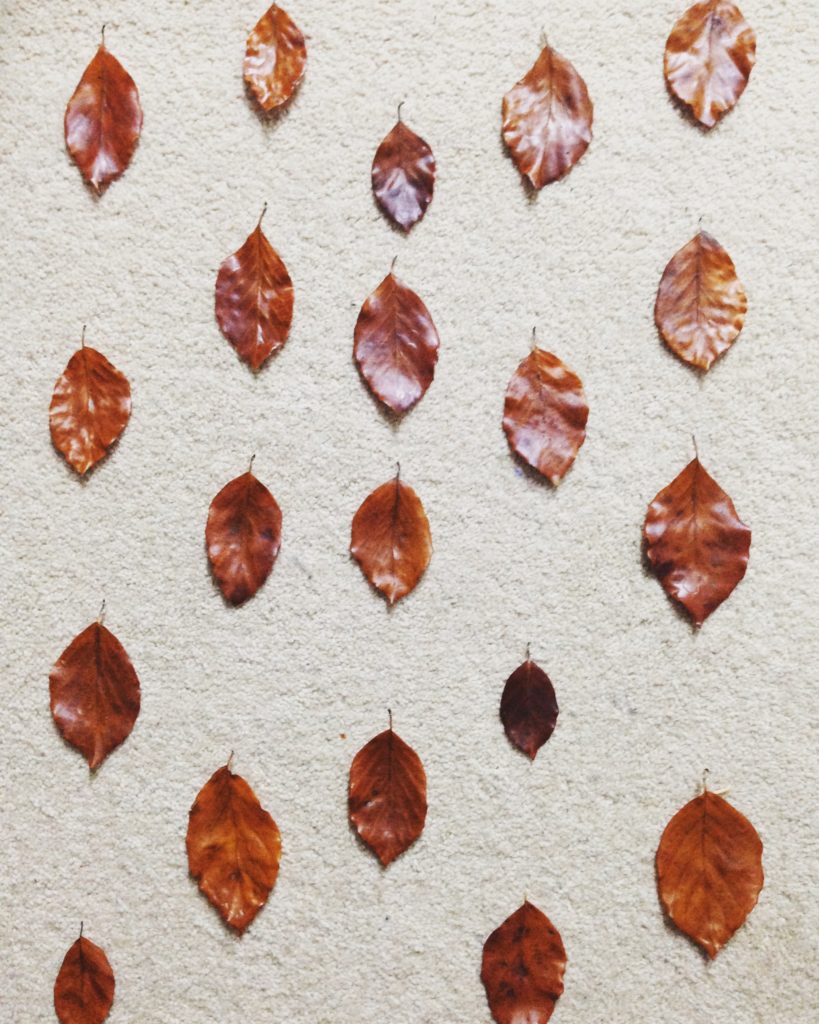 twine, but it was too clumsy. Eventually, after a trip to the local sewing shop, I settled on one strand from some cream embroidery thread.
At first, I thought I'd sew it onto the stems. But then, as I was holding it to a stem, it stuck to part of the beeswax. Perhaps I could use more beeswax? With a little experimentation, I found I could delicately wind the thread around the stem and then drop a tiny amount of beeswax on the back to help it stay.
And the piece started coming together.
At some time during my process, my son, Gabriel, came home from a walk with his Dad bringing a stick with him. It sat around for a few days. I looked at it and thought, "I'll use that to try holding my leaf strands up, just to see what they look like hanging…" And once I saw them coming to life on it, I knew it was part of the piece.
When it was finished, I suspended it from the ceiling against the white of my bedroom wall. And I just stared. The leaves, shadows, colours and movement absolutely stilled me.
It was glorious.
Just magic.
I give thanks that I'm allowing this magic into my life. I'm listening to that which I am obsessed about, those places where I see beauty, and I'm making it important. Then, I'm carving the time to play in my corner-of-the-bedroom studio. It's so rewarding.
---
Exciting news: This piece will be exhibited in the new artist 'Limelight' spot at Falmouth Art Gallery from 27th March – 1 April 2017. I am so excited to have my first ever exhibited piece in an art gallery that I love. If you are anywhere near Falmouth (or want to be) that week, please do pop in and see it.
---