Earlier this year, in my studio newsletter, I shared that what I wanted most for my art this year was to get it out there.
And I know that getting yourself or your stuff out there requires making some brave moves. So in February, having completed my botanical sculpture Copper Beech, I did just that. I reached out to Falmouth Art Gallery and asked them if they'd consider it for their new artist 'Limelight' spot.
I was pretty chuffed when they said yes. I'd never had a piece displayed anywhere.
And then they asked if I wanted to do an artist talk while it was up. And, despite being nervous at just the thought, I had to say yes. I mean, how often was I going to get a chance to talk at a nationally regarded art gallery?!
So it happened. I did it! And it was good. Here's a flavour for you:
The Limelight space at Falmouth is beautifully lit with a gentle air current passing through – the shadows and movement of my piece were really shown off. I've only ever hung the piece up in front of white before, but I think the lime green here sets it off: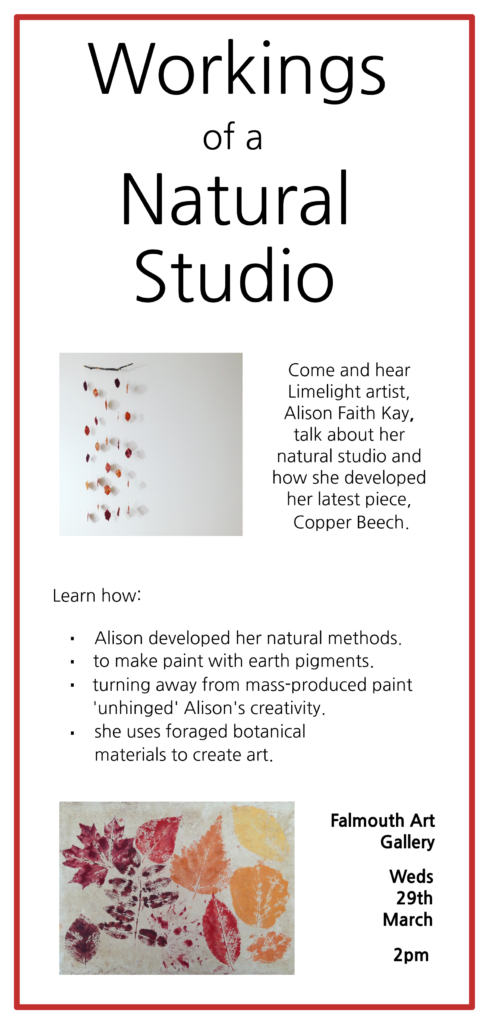 My talk was titled 'Workings of a Natural Studio'. In it, I shared  why I developed a natural studio and how I created my methods, along with explaining about my natural pigments and milk paint and doing a paint-making demonstration. I then went on to talk about my use of botanical materials and told the story of Copper Beech. It was great. After about 30 seconds, I lost all my nerves and just enjoyed myself! I'm particularly grateful for the interesting and interested ladies that came along and the fact that I sold all of the five copies I'd printed of my new book, Explorations in Natural Paint.
Thank you to Falmouth and everyone who supported me.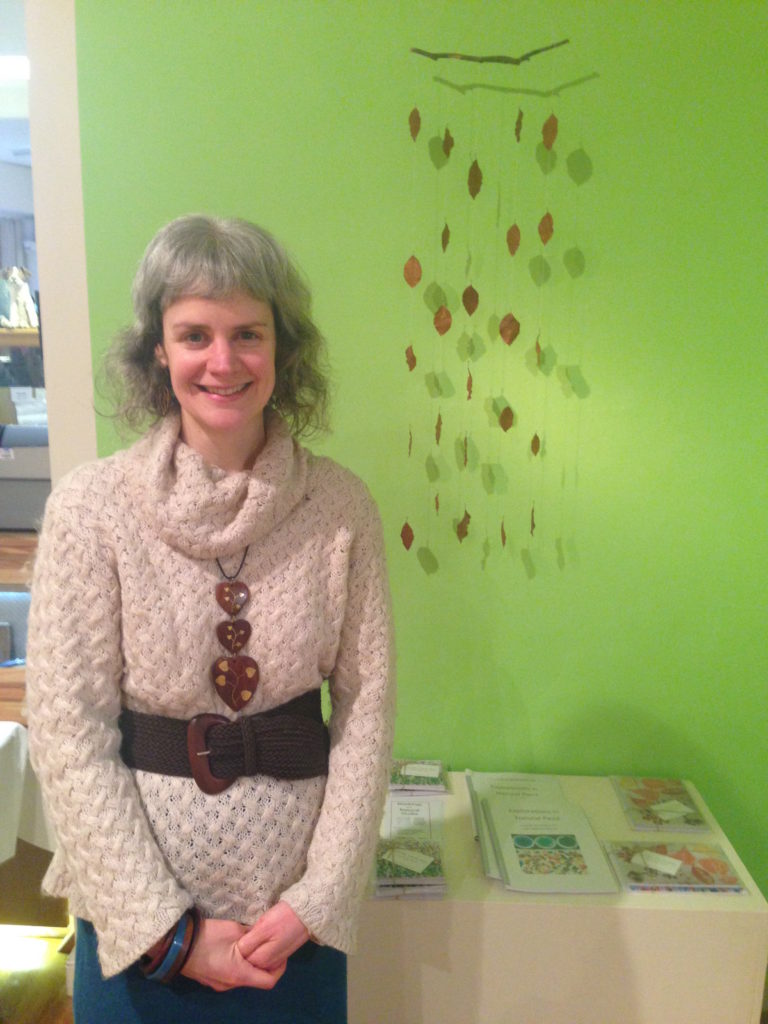 My biggest learning from this process has been that what I experience when I put myself out there helps me to be sure I'm on the right path in my life. I have stood up in front of people and talked quite a few times before: I used to present training courses for Microsoft. I taught Italians how to speak English when I lived in Italy. When I was life-coaching, I created and ran my own retreat days. None of those felt like this – there was a level of comfortableness, enthusiasm and flow in my mind and body whilst at Falmouth that I understand as being in the right place doing the right thing: If we listen to the subtle (and no-so-subtle!) signals our body and spirit gives us when we do things, we know whether we are pointing our lives in the right direction.

I'm excited to find out where staying on and developing this path will take me and what more layers of peace, fulfilment and joy it may bring to my life.