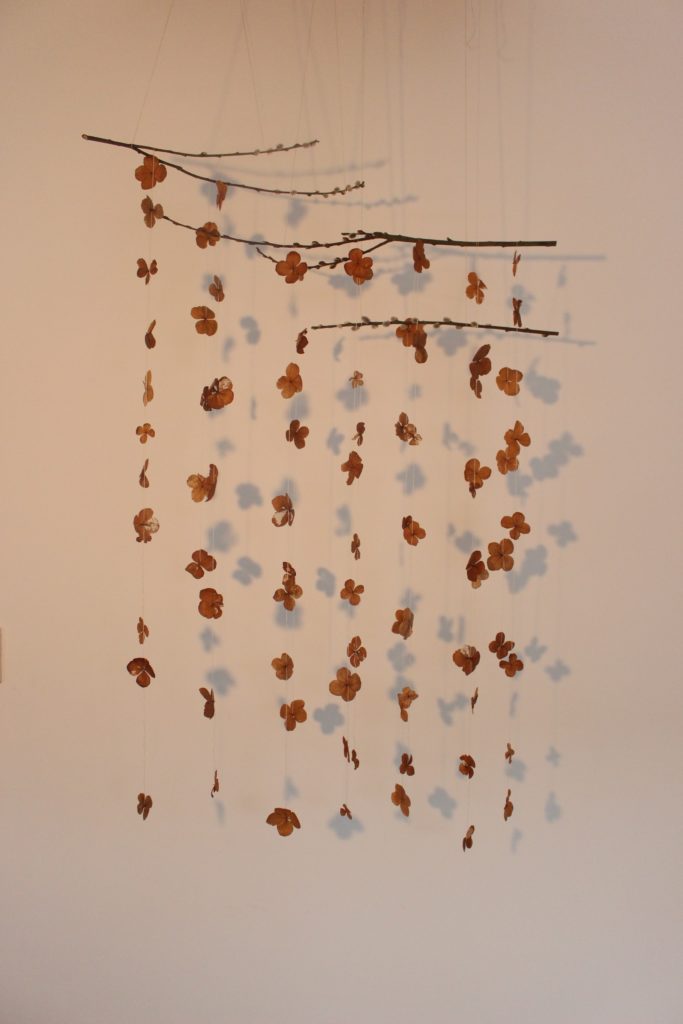 Hydrangeas are just the most magic flower. I love them.
They grow in abundance in Cornwall and I've derived such joy from watching them at every stage of their lifecycle. The fresh emerging flowers, the full blousey blooms, the divine stage where the colour starts to fade, mixing with the brown of decay and then, finally, the beautifully stark lifeless, yet, somehow eternal, dried petals.
Here, with my piece Being Led, I used flowers from the foraged, fallen heads of lace-cap hydrangeas in Morrab Garden and Trengwainton Gardens, Penzance. All of them were collected on walks with my son.
The mobile was the culmination of moments of play and moments of waiting. I experimented with displaying the flowers in many ways. When I attached them in a line to some embriodery thread using beeswax then hung the thread over the clothes rail I have in my studio, the shadows they threw on the wall entranced me. I made more threads of flowers and then chose some local pussy willow to hang them over.
The logistics of working on this challenged me! It was the first piece I have had to hang from above me in order to work on it. I found an old cork noticeboard and attached it to ceiling using velcro strips. I then strung the willow up with more embroidery thread and pinned it into the cork board above my head. This is where the piece remains today.
Leaving my studio door open a crack results in a gentle breeze moving past the flowers. The play of the shadows on the wall stops me in my tracks. For just one moment I am still, mesmerised by their dance. It's bliss.